Pre-order our new upgraded mattress at a discounted price of $239. Ready to ship July 27, 2023
TESMAT Mattress GEN 4
Key Improvements:
Thicker 3" thick memory foam
1-piece design to prevent possibility of mattress pieces separating
Smaller packed footprint with integrated magnetic compression straps that tighten for further compression
---
Luxurious & incredibly comfortable Gel Memory Foam mattress

Ultra-soft and zippered mattress covers are removable for easy washing
The mat unfolds and unrolls to form a twin sized mattress (38'' x 75'' x

 

3'')
Carrying Case dimensions are 26'' x 14.5'' x 11''

Integrated hard planks extend the mattress past the edge of the folded rear seats for maximum sleeping area
White vegan leather carrying case top matching your Tesla seat material
Magnetic

 

compression strap allows a 3 inch mattress to compress and fit in the sub-trunk 
Included TESMAT carrying case is designed to fit in the sub-trunk or frunk of both the 5-seater and 7-seater Model Y
TESMAT carrying case is insulated and waterproof so that it can also be used as a cooler
Fits in the
Frunk or subtrunk
Doubles as a cooler
The carrying case is waterproof and insulated with removable straps so it can also be used as a cooler. How cool is that.
REASONS TO CAMP IN YOUR TESLA:
It will stay at the perfect pre-set temperature all night
It's safer than a tent and has its own security system and cameras
It has a fireplace, built in lights, music, and movies
Gaze at the stars though the glass roof 
It's a fun adventure & makes road-trips more memorable
TESMAT pays itself off after a night or two saving hotel/motel fees 
Mostly Good
Please see the video linked below for the full review of the Gen4 mattress for the model Y.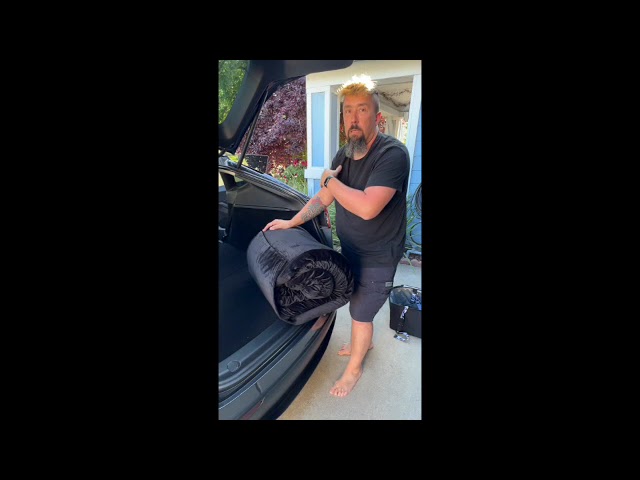 Thanks so much for your in depth review! It also let us know that the pack away may not be as intuitive as we initially thought so we'll definitely be making video instructions as the process should be much easier than it seems in your video. Some tips: don't stress rolling up the roll as tight as possible; as long as you can roll it enough to get the Velcro flap to reach the corresponding strip, it will pack away just fine and this should be able to be accomplished without much force. It is much easier to do the extra compression needed with the straps. The roll will look like it does not fit in the bag, but place the rolled up mattress with the hard boards facing up inside the bag. With the bag on the floor, kneel on on the hard boards, while simultaneously tightening the straps. You shouldn't have to pull too hard on the straps as your body weight should be doing the work of compression while the straps are just utilized to maintain the compression you've already done by kneeling on the roll. By not pulling so hard on the straps, they shouldn't come out of the plastic slits which are present so that the straps can be removable for when using the carrying case as a cooler so that the straps do not get wet. Thanks again for the review! We hope you find these tips helpful as we get our video instructions produced and posted!
Camping in my Y
My girlfriend and i used my Model Y to camp on the Tesmat for two nights. I definitely had a much better sleep than in a tent and will continue to use this but some modification need to be made as I'm 6'2" to be able to sleep with straight legs. If i pull the mattress away from the tailgate it slides back down during the night so i need to think of a way to stop that. I've also bought some boards to stop the pillows from falling over the edge behind the front seat so that i can have more leg space. If it was just me sleeping in the car then i can lay diagonally with no issues but when there are two people the matress needs to be longer.
TESMAT Mattress & Carrying Case for Model Y
Great product and quality
The entire kit is very well through through, super easy to setup and pack down. Very comfortable as well.
Super comfortable!
Even though I had to pay £98 import tax to get the product into the UK, and unfortunately I didn't receive the right components to fit the privacy screen (video seems to show carabiners, but I receive any) and it was a struggle to install, I can't say these points mean enough to be worth marking down for, since the mattress is incredibly comfortable, perfect fit for the frunk, and all in all we slept on in last night and had an amazing nights sleep! Much more cost effective than Dreamcase I would say. Thanks Tesmat, quality product - if you can send me the carabiners I'd really appreciate that!